Showroom Service
Restoration measures, discretion sells and even small to medium sized exhibitions, we set no limits to the use of our storage space.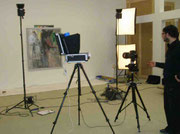 Your photographer is welcome here ! 
Use our Showromm for photographs or catalog creation. In our showroom you can present your property professionally.
Also for your sales, we are helping you - we get your property ready for presentation in our Showroom in advance.
Get an insight with our 360° Panorama View: