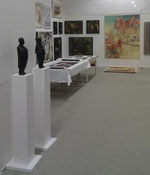 You are planning a trade show ?
We do the necessary transportation !

With our global trade services we ensure that your presentation runs smoothly and that you will have all the objects at your stand on time.

Every year we take of organizing the trade shows of our customers. From the safe packaging and collection to transportation through building up the your stand and the installation of your exhibits on site. Take advantage of our all-round trade fair service !