Installation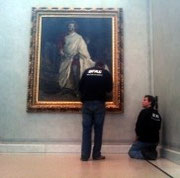 The transport of paintings and sculptures is important. Still even more important however is the satisfaction of your customers. Heavy sculptures, installations, large sized paintings and photographs? Heavy-load belts, high elevating truck platforms, gantry crane, walkway equipment, picture tubes - we have the suitable equipment for everything.

Have you lent or sold an object and then entrusted it to us for transport? Intact delivery to the destination is a reassuring thing.
How often does it however occur, that your business partner would like to 'just quickly' have the picture installed in its proper place?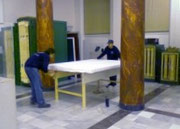 Of course we carry out professional installations in museums, exhibition houses and galleries. Our personnel is trained and equipped in such a way, that at any time the needs of your customer can be fulfilled to their satisfaction. Even if it was at times not anticipated - we bring your objects to the dedicated place.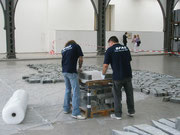 You are sender, and the receiver will be positively surprised by you, even if our trained personnel contributed a small part to it.

Test us. We come, install and the only one thing which looks different afterwards is the empty space which has changed. Nobody should notice that we were there. As if you would have done it yourself.